Are you trying to add Facebook as a sales channel to your Shopify store to list products to your Facebook/Instagram shop but you are stuck because your Commerce Account is not eligible for shopping?
Don't worry, it happens quite a lot and there is a workaround for it.
The below article will show you all the steps you can take to get your Commerce Account eligible and finish integrating Facebook with your Shopify store.
LATER EDIT
If your business is not based in the USA, starting on August 10th, 2023, you will no longer be able to host a shop on your Facebook Page or Instagram account, unless the shop has Checkout with Facebook or Instagram enabled in the US.
Businesses with a shop located in 11 markets (Denmark, France, Germany, Italy, the Netherlands, Norway, Spain, Sweden, Switzerland, the UK and Ukraine) will continue to be able to use Shops on Facebook and Instagram until further notice.
Read all about these changes here: https://www.facebook.com/business/help/953630345801994 
If you want to enable checkout with Facebook and Instagram in the US, here are the requirements:
Business category and type
A business address in the US
US Bank account details for collecting payouts
A State Tax Registration Number for every state where the business operates, for tax purposes
A Federal Tax Identification Number that matches the business representative's name for financial reporting
A business representative's personal or business identity information to verify the authenticity of the business
Shipping options, return policy and a customer service email to set up customer service
CHECK YOUR BUSINESS VERIFICATION STATUS
The first thing you need to do is go through the Business Verification process with Facebook. If you have not done that yet, here is how to start it.
Go to Business Manager → Business Settings and click on the Business Info tab in the left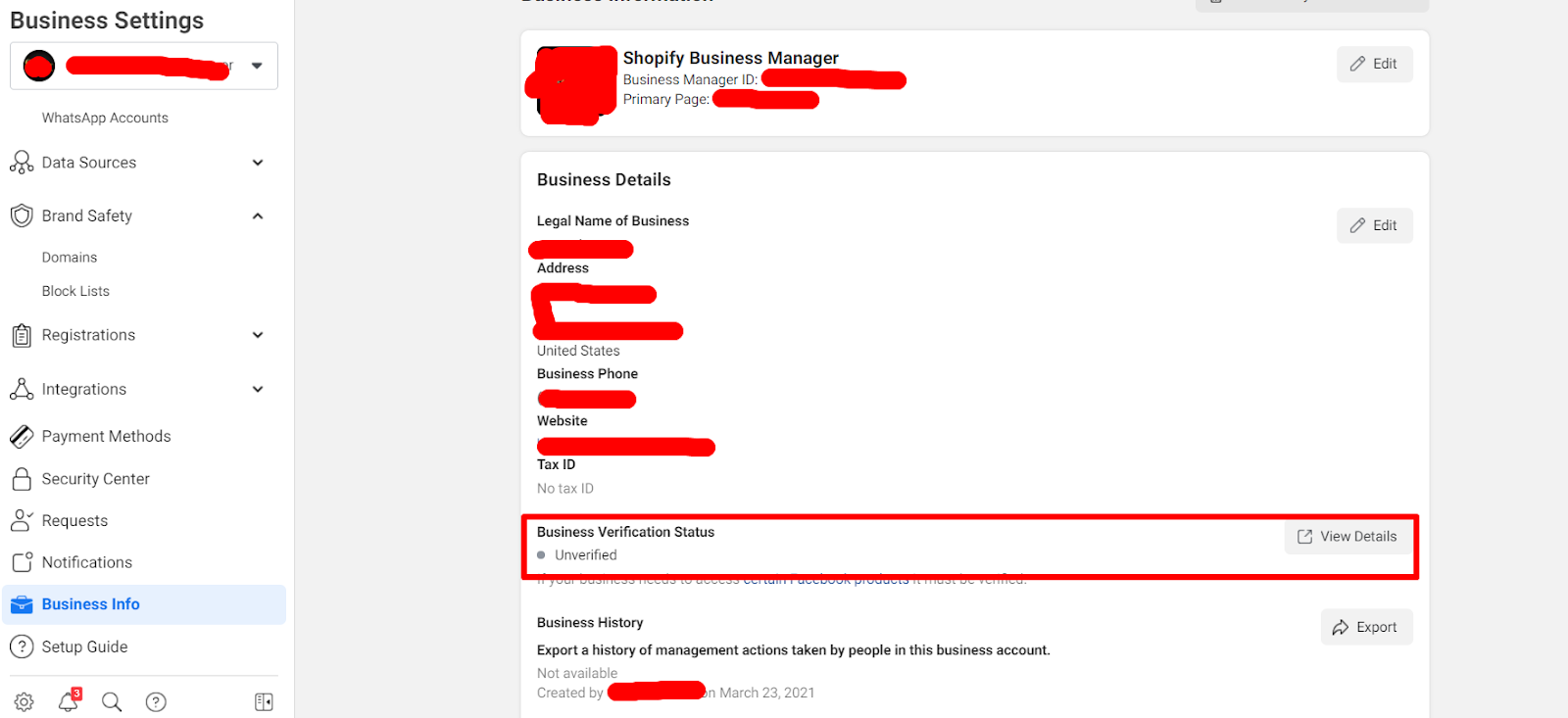 If your business status is Not Verified, click on View Details and see if the Business Verification button is active:
If it is active, you need to click continue and follow the steps by submitting the requested information and documents. 
If it is not active, it's because "your business is not eligible for business verification". 
Here are the steps to pass this. Go to Accounts section in the left side menu and click on Apps. 
Add and Create a New App ID: 
Select "Manage integrations for your business" click Next. Select Business and Next.
Choose a display name: same as your business name or page, enter an app contact email. 
Hit Create app and enter your Facebook password again. 
Now that you created the app, go to the left side menu and click on Settings → Basic:
Fill on a namespace for the app (same as your app name/business name, no uppercase letters), add your website domain, privacy policy url and terms of service url (from your website's footer.
If you don't have these, make sure to add them in Shopify Settings legal section and link it to your Footer menu), add your logo (1024×1024) and choose a category – Business and pages. 
Save Changes
If the Verification section on this page does not show the Start Verification button as active, you need to do the following:
Now go to the left side menu again and select App Review → Requests
Request permissions or features. Scroll down to business_management and hit "Request Advanced Access"
Go back to Settings (left-side menu) → Basic 
Now you should see the Start Verification button as active and click on it.
A new tab with Business Settings will appear. Please make sure you submit the correct details on this page as they will be sent to Facebook and verification approval depends on these.
Country, Address website, select your business, confirm your business details and choose a verification method.
Once you submit these, Facebook can take from a few days to a few weeks to get back to you and ask for more details or verify your business.
While you wait for Facebook to verify your business, make sure your social media pages have at least a few followers/likes – the more the better. Maintain constant activity on both Facebook and Instagram, ask your friends and family to like and share the pages.
Section 4 of the Commerce Eligibility Requirements says:
"Your Facebook account and Page or Instagram professional account must have demonstrated trustworthiness, including through an authentic, established presence. This may also include maintaining a sufficient follower base."
There is no clear number of what a sufficient follower base is so you need to get as many as possible.
Once your business status is Verified – good job!
If you have a few followers/likes, we can now go to the Commerce account (Business Settings, Accounts, left side menu) → Open in Commerce Manager
In the Overview section you will be able to see: Action Needed, click on See Detail
You should  be able to see what is the reason why the Commerce Account is not eligible:
You can click on the Commerce Eligibility Requirements link to see what Section does not comply with.
If it is section 4 and you have a sufficient follower base, click on Account Quality link and Request Review blue button on the right side.
If you are not able to request another review but know you have taken the necessary steps to comply with the requirements, you can just contact Facebook support and ask for a manual review. To reach out to Facebook support directly via chat, go to your Commerce Manager Overview page and scroll down to the bottom right corner where you can see Need Help?
Click on Learn More:
A new section on the right side will show with Recommended Articles and a button saying: Contact Facebook Support:
Select Account Setup, getting approved for Instagram Shopping, ignore the Related help topics and click on the small blue link saying:
Need more help? Contact Facebook Support
Add an email address, a message (see below), select Chat as a preferred contact method, and wait a few good minutes for a Facebook representative to join the chat.
In the message box, you can use the following template as an example:
"Hi,
This is ___ with ___ (Business name). I am reaching out as we are trying to integrate Facebook as a sales channel to our Shopify website. We are facing issues with our Commerce Account not being eligible for shopping. We have verified our domain and submitted all the necessary documents for Facebook Business Verification. We have slowly started to establish a presence and got a small but positive (or a solid amount depending on your situation) followers to our Facebook and Instagram pages. 
We kindly ask that you help us with the Commerce Manager approval as we are planning to invest time and resources into growing our social media presence. "
Be kind and polite to the Facebook representative and make sure you clearly state the issues you are facing and clearly ask them for assistance on what exactly needs to be done to get the account approved.
If you find the above information helpful, please feel free to leave us a review here: 
https://www.facebook.com/ecommercetodayagency/reviews
If you need us to help with any of the following or have any questions, feel free to reach out.