Your website's search is very important and you need to make sure that visitors are able to use it.
Countless times we've seen big websites that showed results that were not optimized.
Think about it – when searching for a brand, what would be best? To see a search results page with all the products that get triggered by the keyword? Or a brand landing page that's rich with graphics? A page where the product sorting
is optimized
?
It's a no-brainer! Main product types and brand searches should redirect to collections. Synonyms should
be implemented
. And no search result pages should be
carefully
analyzed.
First of all, you need to have good visibility into what is being searched on the website.
The simple, free way to keep track of keywords on Shopify is to use the Google Analytics Site Search.
With a little bit of setup, you will be able to see what is being searched to help you with the optimization process.
1. show you how to set up Google Analytics Site Search for your Shopify Store
2. get you started on what optimization work you can do with 5 tips
Setting Up Site Search in Google Analytics
Go to Google Analytics / Behavior / Site Search / Overview
If you see search terms then skip the setup and go directly to our Shopify Site Search Optimization tips.
If the page does not show you any Search Terms it means tracking is not enabled.
To set it up go to Admin, and click View Settings under the View column.
Then enable Site Search Tracking, add "q" in the Query Parameter box (if you use the default Shopify search) and check the box that strips unnecessary parameters out of the URL and hit Save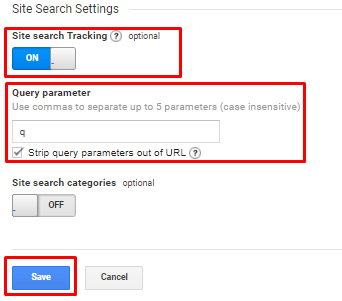 Google Analytics will now record what your visitors are searching for.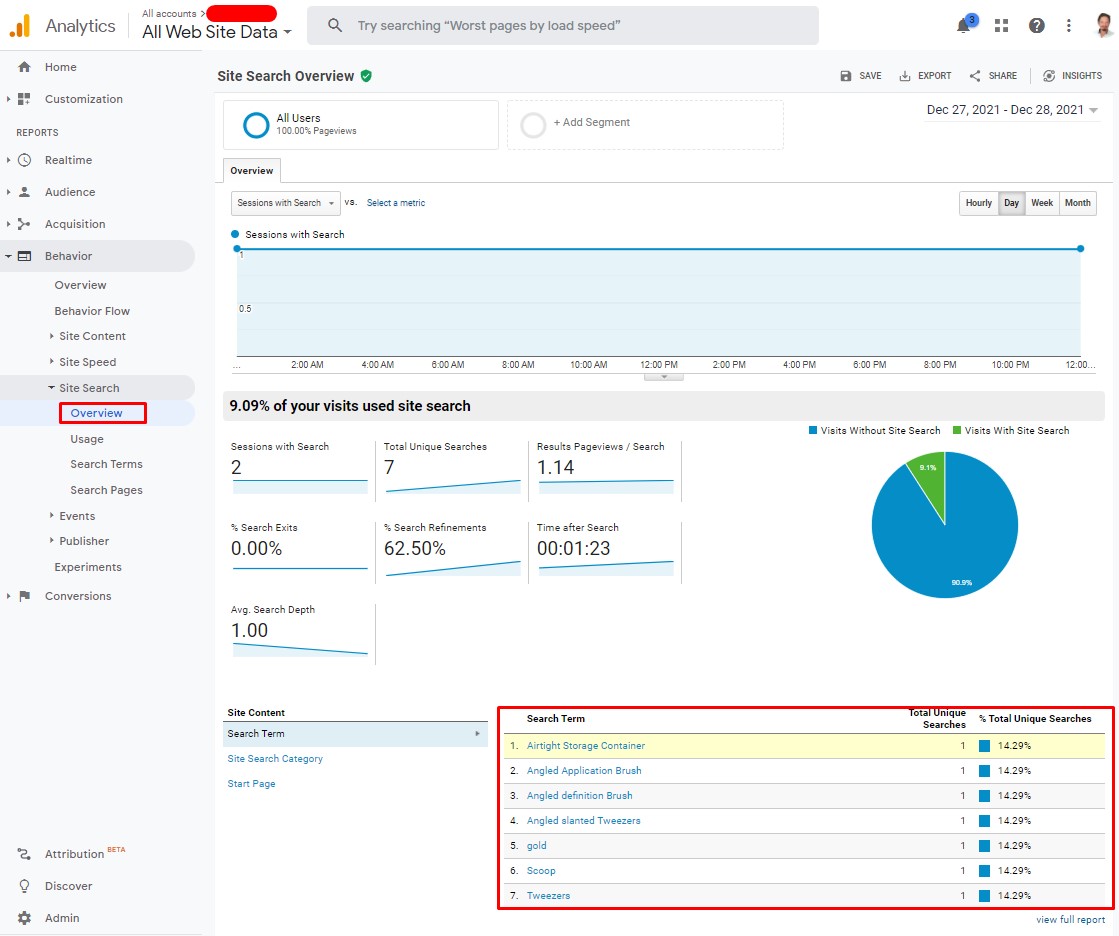 How to Optimize Search Results in Shopify
For our clients, we always set up a recurring task called "On-site Search Optimization". In this task, we review what visitors are searching for on the website on a weekly basis (depending on the volume). We then look at the top 50 searches and we ask ourselves if the results visitors are getting are good.
Here are a couple of tips to get you started:
1. Redirect brand searches to brand collections
i.e. if someone is searching for "Calvin Klein", it's a safe bet you can redirect them to your Calvin Klein collection
2. Redirect product type searches to their dedicated collections
i.e. if someone is searching for "bedroom armchair" results will likely range from beds to accessories and chairs
. You could instead redirect their search to the armchair collection.
3. Identify typos and redirect them
accordingly
i.e. if someone is searching for "Abibas", it's a safe bet you can redirect their search to the Adidas collection page
4. Analyze search terms that have no search results. It's a good indicator of what your visitors need. Either plan on purchasing those products or redirect the searches to related products
This is a task that will be more time-consuming in the beginning but with time, your search will grow to be super optimized to your catalog and customers. Start doing it today and get a huge competitive advantage over your competitors.
Related Article
If you don't have your Business Manager set up completely please follow the below, step-by-step guide.