In the fast-paced world of e-commerce, choosing the right platform for your online store is a pivotal decision that can make or break your business. With countless options available, each boasting a unique set of features and benefits, it can be overwhelming to make the right choice. Two heavyweight contenders in the realm of e-commerce platforms, Shopify and BigCommerce, often emerge as top choices for businesses seeking to establish or expand their online presence.
Whether you're a budding entrepreneur looking to set up your first e-store or a seasoned retailer considering a platform switch, this blog post will guide you through the key differences between Shopify and BigCommerce, and why migrating to Shopify might be the best move for your business.
Key Features to Consider
Both platforms have one mission: to deliver user-friendly tools for your business. The main benefit is that you don't have to buy or download any software to use them. You can easily access and manage your store from anywhere. Without needing to code anything, you must choose the right template for your business. Uploading products, setting your prices, designing your content – you're ready to go!
This seems simple, but let's explore what other options these platforms hide.
| | | |
| --- | --- | --- |
| Factors | BigCommerce | Shopify |
| Cheapest pricing plan | $39 per month | $32 per month |
| All themes are mobile-responsive | YES | YES |
| App store | <1000 apps | >6,000 apps |
| Custom domain name | YES | YES |
| Reliable hosting | YES | YES |
| Blog CMS capabilities | YES | YES |
| Sales reporting | YES | YES |
| Multimedia support on product pages | Image, GIF, video | Image, GIF, video, 3D models, augmented reality |
| Sending email campaigns | Requires 3d party app | With Shopify Email |
| Securing payment gateways | Over 65 | Over 100 |
| Fully-featured mobile app | No store editor access | YES |
| Product limits | Unlimited | Unlimited |
| International customer support | –  | In 21 languages |
| Discounted plans | up to 10% on annual plans | 25% discount on yearly plans |
The main features give you a general picture of BigCommerce and Shopify. Based on your business, you can focus on which features you want to rely on, and which platform suits you the best.
Why Shopify Secures its Position Among the Leaders
Even Beginners find it easy to use
Shopify's power is in the easy-to-use dashboard where you can keep product and sales information well-organized. You can use the themes with confidence even if you're not technically inclined. 
Also, you're never alone in the process because Shopify gives you little helpful tips along the way. Having a larger user base and a very active community, they can help answer questions and provide feedback. Additionally, Shopify provides 24/7 customer support.
Here is a good example of some tips when uploading products: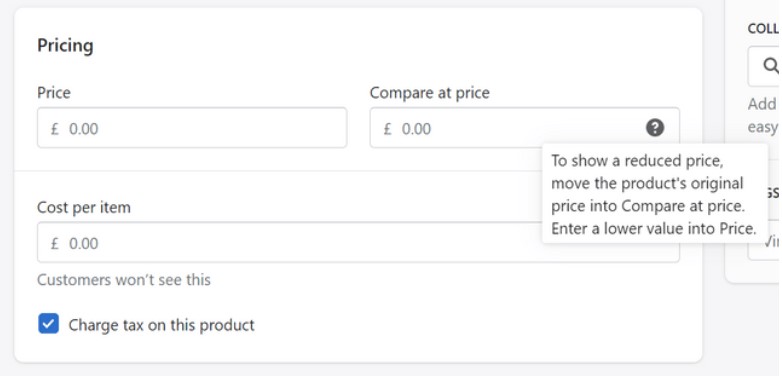 The Design Functionality Wins
Nowadays, 57% of visitors will bounce from a store if they don't find it attractive or engaging enough. On Shopify, you don't see the same style twice – even with using one of the free themes you can easily stand out with your design. There are basically endless variations of layouts:
Free themes are ideal for new businesses to find their way in e-commerce. For every business comes a time when they outgrow their current style and they have more products to offer. 
Shopify helps you to step forward with a wide range of paid themes (over 140). You can quickly upgrade your store with a one-time payment of $100 to $180. These are prepackaged styles as well, but they are easy to personalize. 
For sure, Shopify's features ensure everything for visual storytelling.
Number One in Sales Features
It's a must to talk about Shopify's large app store. This store delivers a lot of useful tools that make e-commerce life easier. There are free and paid apps you can easily install on your store. The point of this is to ensure multichannel selling.
Recently, more and more stores started to sell on Snapchat and TikTok. Shopify also joined these huge markets along with the other social media platforms. 
To have a successful e-commerce business, you need to be where the customers are, you need to allow them to choose the platform they want.
Another bonus feature is the Shopify POS (Point of Sale). For instance, if you operate both an online store and a physical retail location, Shopify offers its own point-of-sale system, which is seamlessly integrated with the online store. This is definitely a helping hand in keeping inventory, sales, and customer data consistent across both channels.
More than that, Shopify POS allows you to customize the checkout process to suit your specific needs. You can set up custom discounts, apply taxes, and accept various payment methods, including credit cards, cash, and gift cards.
There is an option also for those who don't need a full-fledged store but want to sell products on an existing website or on social media. Shopify offers Shopify Lite which can be integrated with your existing website or social media platforms to enable selling.
With more options available, Shopify is clearly giving freedom!
SEO Tools to Count On
Most of the time, the online shopping journey starts on Google. It's not enough to offer the best products, but to be discoverable for your target audience. Shopify's SEO tools allow you to be discovered easily on Google and on Bing as well. 
As an SEO-oriented e-commerce platform, it offers title tags and meta descriptions that make your store more accessible to search engines. In order to improve the customer experience on your store, you can add Google Analytics to Shopify – it gives a clear view of what's happening with the website traffic.
Furthermore, there's a tool that delivers all the track sales, and customer behavior on your Shopify store. Shopify Analytics is based on two parts: Product Insights and Sales and Customers. You can check which products are the best-sellers, how many visitors you have, and what they are looking for. You get detailed information about customer behaviors, where they come from, and what they choose to put in their cart. 
You have all the means to make your store grow!
In this digital age, where innovation is key, Shopify emerges as a potent catalyst for growth. Its comprehensive ecosystem, powerful app store, and forward-thinking features make it a compelling choice for businesses of all sizes. So, whether you're just starting your online venture or seeking to elevate your existing one, migrating to Shopify is the strategic move your business needs to thrive in the fast-paced world of e-commerce.
If you need help with your Shopify store or migrating from BigCommerce to Shopify look no further! We are working with over 100 Shopify Stores today. For most of them, we are extensions to their in-house eCommerce teams. For small businesses, we are the eCommerce teams and we work directly with the business owners being both reactive to their needs and proactive in offering advice, guidance, and setting goals.
Reach out today: https://ecommerce-today.com/contact-us/