What is a Shopify subscription business:
Maybe you want to create a subscription business on Shopify, but you're not sure if it is for you.
Getting personal is more important than ever today in e-commerce. Shopify stores make no exception.
Imagine having a business where it's possible to know how much your clients will spend, with an easy and low-cost way for upselling. In other words, it is a business model where you offer a service delivered on a recurring basis. This model allows you to make revenue predictions and create new strategies.
What is a build-a-box product?
Think of it this way. You don't have to guess what your customers want. You let them build their own solution. As the name suggests, think about your final product like a box of chocolate.
Your customers can decide how many pieces they want, with the flavors they want. You give them the freedom to choose and you don't need to guess anymore. It's a win-win situation.
What are the Pro's and Con's for creating a "build a box" subscription business on Shopify?
PRO"s
You can spend less on retaining clients and more on acquisition. Your customers will come back on their own.

You can predict the expenses, budgets, and profits in the long run. This will help you when you'll create your business strategy. 

Shipping becomes easier and more efficient.

You can predict stock much easier.

An interactive experience for the clients
CON's
To keep your customers engaged you need to introduce new products frequently

Higher acquisition cost to convince them to commit to a subscription

Prediction can become tricky if you give customers the option to cancel anytime

Very sensible to random crises like CoVid. In those situations, subscriptions are the first ones that are being cut.
What are the best industries to create a "build a box" subscription business on Shopify?
In general, the best products to sell via a subscription plan are consumables. You have a constant need for the product and your customers know how much they will need. One of the best industries is the health and care and food industry.
To give you some examples:
Skin Care

Fitness Supplements

Diapers

Pet Food

Organic Food

Razors
You can think of it this way. If your product is in constant demand then you're on the right track.
Why you should use Shopify's platform for your build a box subscription business.
Big brands are using Shopify. Brands la Colorpop or Gymshark are using Shopify. If they can do it, you can do it too.

You can leave server cost worries behind. For a lot of businesses, server costs are a big problem, but Shopify offers plans that start just from 29$ a month.

Unlike other platforms, Shopify it's secure and reliable. Being a global platform, their team is monitoring the platform 24/7.

No need for coding. One of the biggest advantages of Shopify's platform is the drag and drop functionality. You can create your store without any coding knowledge. 

Very versatile. You can create any type of store you have in mind. Shopify offers a great variety of options and applications you can add to your shop to make them unique and meet all your needs.

Being the biggest eCommerce platform around, you can find a lot of information about any topic you can think of. Also, Shopify has third-party experts (eCommerce-Today being one of them) that you can contact to help with your website.
What do you need to build a successful "build a box" product?
First and most important, variety is the key. Giving customers more options to choose from, better the chances to keep them in the long run.

You can choose to sell the product based on a subscription or in a classical way. If you do that, make sure to offer a discount for the subscription. Saving money is the most important selling point of a subscription.

Find a balance between freedom and reliability. If you let your customers cancel their subscription, this might create problems. In the long run, it will be much more difficult to make revenue predictions.

The easiest way to do it it's using an app. One of the most used apps is Bold Product Builder, but it is not the only option.
Three successful business models that use both a subscription and "build a box" product!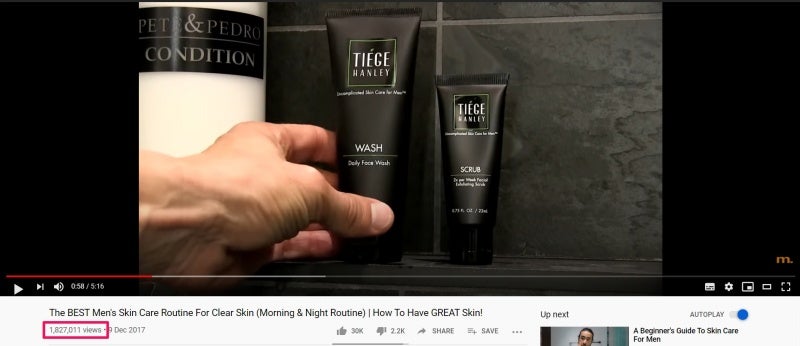 Tiege Hanley – Uncomplicated Skincare for Men
A perfect example of a business built on youtube success. With a limited range of products and educational content, this business became a total success.
To have a limited range of products it's not the best practice. Having variants normally keeps customers more engaged in the long run. What's special about this business it's the owner. He's a popular youtube vlogger who talks about man care products. He keeps his customers close through his videos, not through product variants.
How does it work? The business put a strong emphasis on educating men about skincare. Free information delivered by an influencer for his community 
The strong features of this business are:
100% build box subscription model

Use of influencer work

Use of educational components

Easy to upscale

Easy to predict revenue

Rewarding system base on points
What do you need to look for?
Having a 100% subscription business model may result in losing clients that don't want to subscribe to a business.
The Foreign Affair Winery – Wine subscription
A Canadian-based business that produces wine. They are selling based on a subscription plan through their wine club.
The clients can choose from pre-built options and create their own boxes. Then, they choose how often they want to receive a refill.
The core of this store is the checkout page. The subscription option comes as an upsell of the normal product. You can buy the product one time, or you can subscribe and save in the long run. 
Bulletproof – The State of High Performance 
It's a company that sells supplements and healthy products. Apart from the businesses before, this one does not rely just on subscription sales.
At the checkout, they give the customer the choice to buy the product one time, or on a subscription basis. The main selling point for the subscription is a 10% discount which results in long time savings. You can think about subscriptions as an upselling strategy for their products. 
The strongest points of this model are:
Increasing sales volume through subscription upsell strategy

Easy to use

Customers save money in the long run

Customers can choose if they want to buy the product one time or they want a subscription

Very well integrated into the website
What they need to look for:
Customers can take advantage of the 10% off and then cancel the subscription

Because customers can cancel at any point in time, it is harder to predict revenue.
What to remember?
Creating a "build a box" subscription business on Shopify it's not that complicated, but you need to remember some stuff.
It's all about the balance. On one hand, you have reliable revenue that can be predicted. On the other hand, you have to take care of the customer's acquisition and deal with the business's vulnerability to financial crises. 
If done right, Shopify stores' subscribing business combined with the build a box product can be extremely effective. Choosing the right industry and tools for your store are key components to your success.
Paying for traffic is a must today, and most companies are not prepared to get the most out of it. Set up your email marketing automation flows and get a HUGE advantage over your competition.