Nowadays Pinterest is one of the most attractive platforms for the ones who want to find a bit of inspiration. As the company describes itself, Pinterest is a visual discovery engine for finding ideas like recipes, home and style inspiration, and more. The marketers mentioned that Pinterest is a great platform to promote your products, with 471 million active users each month.  The great part is the Pinterest Integration With Shopify.
Shopify is one of the most popular e-commerce platforms. It is described as the all-in-one commerce platform to start and grow a business from scratch. Shopify's total platform sales around the world are estimated at $200 billion to date. Email generates the highest conversion rate for Shopify stores with 4.29%. Following emails, the search conversion rate is 3.04%, 2.93% direct, and 1.81% social.
In this article, we will talk about the Pinterest integration with the Shopify platform and its main advantages and limitations. You will find relevant information about how to start your business on Pinterest, how to integrate the platforms, how to create a catalog on Pinterest and a group of products.
How to create a business account on Pinterest
If you plan to promote your business on Pinterest, you should create a special profile. The great part is that you have two options in order to achieve your goal: create from 0 a new business account or convert your personal account. The business account allows you to get access to analytics on your Pins and the ability to run ads.
From personal account to business account:
Log into your personal Pinterest account.

From the top-right of your screen, click the directional chevron down icon, then click Add account.

Under Create a free business account, click Create.

Click Create a linked business account.

Click Create a linked account.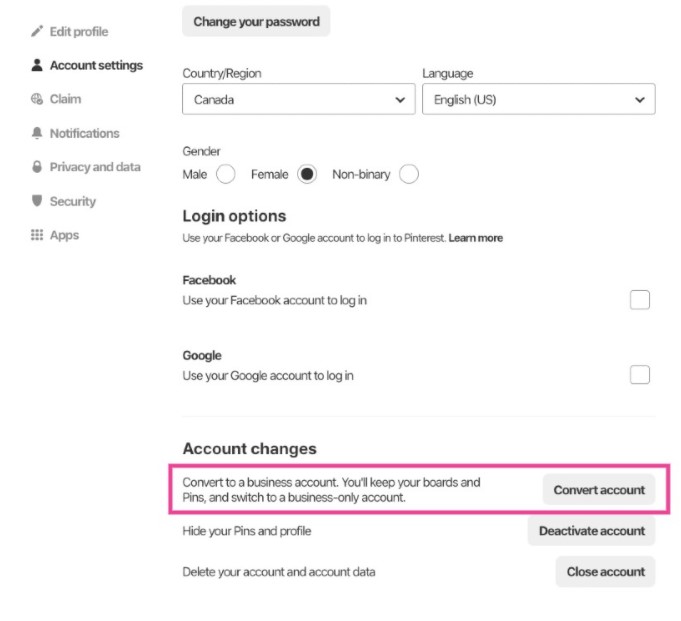 Create a business account from zero:
From the top-right of your screen, click Sign up

Click Create a business account

Enter your Email, Create a password and enter your Age

Click Create account

Fill out the fields to Build your profile, then click Next

Fill out the fields to Describe your business, then click Next

Select if you want to run ads, then click Next

Select where you'd like to start or click the x icon to go to your new Pinterest business account
How to integrate Pinterest with Shopify:
If you started your business on Shopify, we have great news for you! All your products can be uploaded directly to your Pinterest account. All you need to do is add the Pinterest app to your Shopify store and turn on the sync. 
Log in into your Shopify Store and install the Pinterest app:

https://apps.shopify.com/pinterest

Pinterest will appear in the Sales channel section. 

The products will automatically publish into your Pinterest account in 24 h. In order to activate the sync option, scroll to the bottom of the page and click the "Manage feed status" button. 

Click on Activate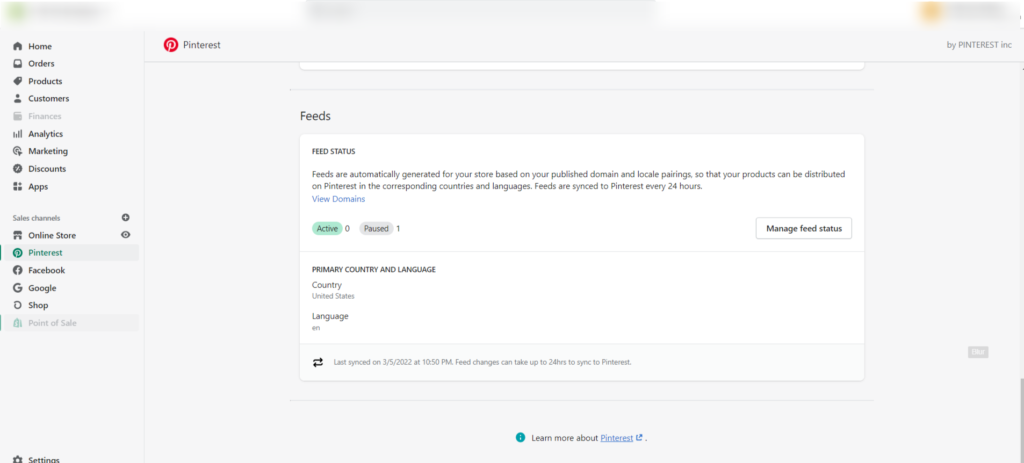 Create catalogs and groups of products on Pinterest
As is mentioned in the previous section, if you integrate Shopify with the Pinterest platform, all the products will be automatically added. Notice that only the available products will be visible on the front end. You can divide your products into groups of products and make them visible on your Pinterest page.
Important! You can create a maximum of 8 groups of products for your account. 
Log into your Pinterest business account from your desktop. 

Click Ads at the top of your screen, then click Catalogs. 

Select View product groups 

Click Create product group.
The ingestion process, errors, and alerts in Pinterest
Unfortunately, there are some limitations of Pinterest that the support team plans to solve. The first one is that on the ingestion process, some alerts and limitations appear that don't allow you to show all the products. Here you can find the errors meaning: https://help.pinterest.com/en/business/article/data-source-ingestion
The error 1008 is something that can be solved by the support team of Pinterest. The error 1008 is something that can be solved by the support team of Pinterest. 

The alert represents all the products that you have as a draft in your Shopify Store. The only products that will appear on your front page are those that are set as active. You can verify the products from your Shopify Store -> Products -> Sales Channels
Another limitation of Pinterest is that it creates pins for each product you have and at each ingestion create others pins. For example, if you have 6000 products at the first ingestion, you will have 6000 pins, after the second ingestion, another 6000 pins, and so on. The bad part is that you can not bulk delete the duplicated pins. This is a problem on which the Pinterest team is still working.
In conclusion, Pinterest can be a good platform in order to promote your products because it has a huge number of monthly users. The support team is constantly working on improving the experience on this platform and answering all questions, but you should know all the limitations before starting your business account. If you have any questions regarding Pinterest, contact us via the form! Don't forget to check our blog posts. We have valuable articles about Shopify, Email Marketing and other e-commerce topics.